Clean solar panels are more efficient and last longer
Insured Solar Panel Cleaning
Premier Clean to Remove All Those Solar Blockers Out of the Way
Get More of That Solar Energy
Dust, dirt, and other debris can reduce the efficiency of your solar system by up to 30%.

Solar panels are a great way to supplement your own energy supply and lower your carbon footprint. In order for your solar panels to work effectively, they need to be able to capture as much sun as possible. Over time, buildup of dirt and grime is inevitable and will cause the output of your panels to drop. Cleaning your solar panels periodically will ensure optimum output and extend their longevity.
Our solar panel cleaning includes a hand scrub and de-ionized (DI) water rinse. Scrubbing breaks down all the dirt on the panel so that it can be thoroughly rinsed clean. The rinse water is nothing but Pure Water, it contains no dissolved solids to dry on your panels which means they stay cleaner longer. When we are done, your panels will be clean and spot free so your panels can operate to their maximum efficiency.
Make Your Sunshine Coast Home Shine | Get the Premier Clean Experience Today!
Why Have Your Solar Panels Cleaned by Professionals
The best reason for letting the experts do the cleaning for your solar panels is to avoid damaging them. Solar panels are expensive and complicated to repair. It's best to leave the job to a professional solar panel cleaning specialist.
Cleaning solar panels on your own can be dangerous. Most panels are always on the top of the roof, which is dangerous to reach. You will need to have a length ladder, a safety harness, and the right equipment. Buying these yourself isn't worth the money, not to mention that you may damage your investment by doing things yourself or accidentally slip and fall.
Countless Happy Customers
What our clients have to say
Solar Panel Cleaning 101:
How Often Should You Clean Your Solar Panels?
Solar panels are relatively sturdy and do not require a lot of maintenance. For most people living in the Sunshine Coast area, we advise cleaning your panels once every six months. 
If you live in an area where there are no pollutants near your panel, such as trees nearby, you can get away with having them cleaned only once each year. With Premier Clean, we provide maintenance plans to clean them as often as you like. We recommend cleaning your solar panels when we clean your roof or gutters.
Make Your Sunshine Coast Home Shine | Get the Premier Clean Experience Today!
A Decade of Quality Service
When it comes to soft wash, pressure washing, window cleaning and other exterior services; Premier Clean is the only right choice. We have been in this industry for over ten years, servicing the happy and lovely people of the Sunshine Coast. We aim to make every cleaning project enjoyable and stress-free. Once you experience our service, we are confident that you'll choose us for life. 
Quick
Here in the morning, gone before sunset.
Dependable
Experience, equipment, and expertise.

Affordable
There's always a deal for your budget.
Versatile
We listen to what you want and find ways to get it done.

Trustworthy
Servicing Sunshine Coast for over ten years!
Professional
We strive for excellence -- always.
What Makes Us the Best at Solar Panel Cleaning
Premier Clean is the go-to service provider for homeowners and business owners in the Sunshine Coast area. We have over a decade of experience cleaning not just solar panels but also windows, houses, establishments, and roofs.
With our years of service, we have already acquired the necessary knowledge to provide you the best cleaning experience. Moreover, we are fully equipped with the proper tools to make sure we can get the job done properly — all the time! Our team of experts is eager to give you that Premier Clean experience.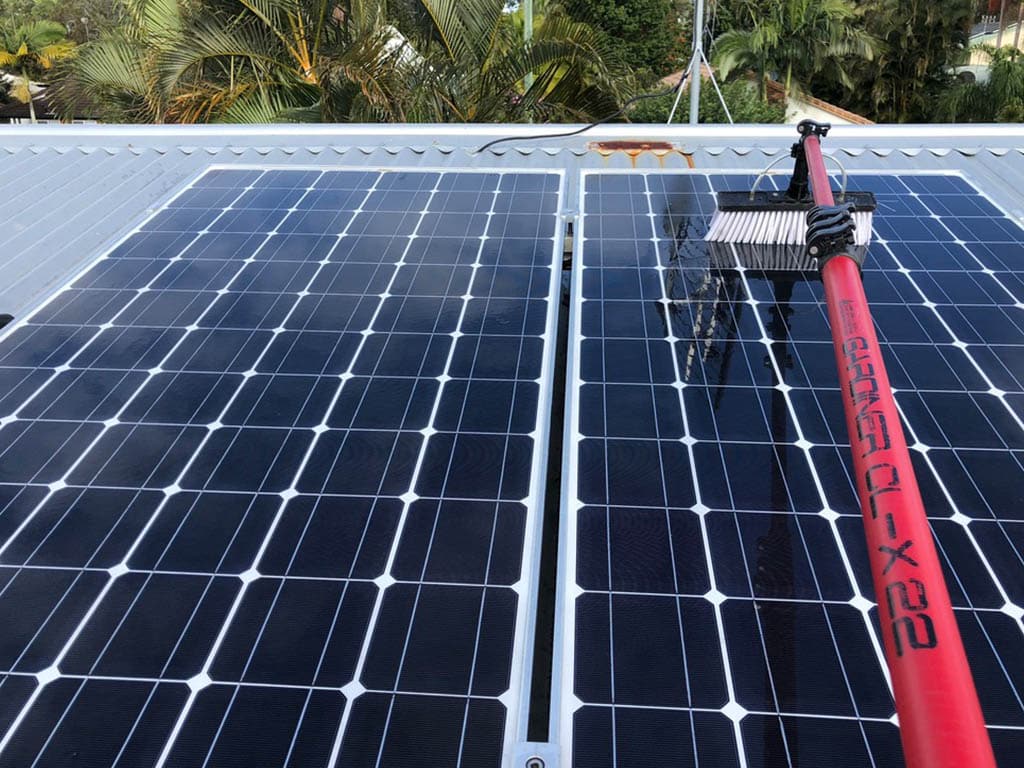 Make Your Sunshine Coast Home Shine | Get the Premier Clean Experience Today!
From Noosa to Caloundra and out to the Hinterland